Brett Mason's Brett Bugle
May 2005 Archives
You are in the Brett Bugle archives right now. The HOMEPAGE is much more important.
2005-05-31 category: SOCIAL
Bethany and I went to an advance screening of Cinderella Man at Regal Cinemas in Hamburg Pavilion, which was free, in honor of Ace Weekly's 16th birthday. Let me tell you... that is a good movie to watch for free, kinda like Longest Yard 2005, which is only satisfying if it's free.
---
2005-05-31 category: CITY
When I was a kid in Miami in the 1970's, Cheryl Ladd was my favorite Charlie's Angel. Today, on the last day of May 2005, I realize that I missed my chance to meet this lovely actress when she came to town earlier this month. Dang! She was at Joseph-Beth Booksellers, promoting her new book about golfing. I forgot to mark my calendar to press her to autograph my Charlie's Angels 1977 trading card collection. Bummer. Maybe when I'm rich and famous, I'll invite her over to my place for lunch.
---
2005-05-30 category: WORK
Today I created a website for a massage therapist that I met at the Potato Run dance weekend. Visit Matece Duncan



---
2005-05-29 category: BRETT
Before you buy me a birthday present, let me tell you what not to buy me. Here's a list of stuff I don't want.

Books: I don't read books anymore, only websites and magazines.
Clothes: I don't wear clothes anymore. Oh, wait, I mean *new* clothes. (Oh, wait, you can buy me this GLK shirt.)
Sports gear: I don't do anything athletic, now that I've learned to control my weight by drinking Fresca instead of apple juice.
Houseplants: not only do they remind me of the outdoors, which I never visit, but also they die for no reason, and that bugs me.
Cigarettes: having friends with asthma prevents me from starting smoking.
Body jewelry: I have no tattoos or piercings, and I strongly doubt that I ever will.
Full-screen DVDs: widescreen only. Widescreen!

---
2005-05-27 category: BRETT

I am the last person without a cell phone.
People pressure me to get one, but I always tell them
"I like being in the Lexington phone book."
---
2005-05-25 category: WORK
Last week I had a six-day weekend, and it looks like this week I might have a seven-day weekend. Fantastic! This is the best job ever.

Have I told you what I do? I build custom software, usually using Microsoft Access. There have been some projects that require me to use Visual Basic or some other language like C# in the .NET environment, but for the most part, companies are quite content with the features of Access. And I am quite content to abuse Access myself rather than clutter my brain with advanced skills that will triple my income.

And now for something completely different...

In my free time today, I filled up two garbage bags with poison ivy that my neighbor Paul noticed was growing wild in my backyard. Thank goodness for outdoorsy people who visit sometimes and spot things like this for me. I'm an indoor guy!! I have no knowledge at all about anything except websurfing and flirting.
---
2005-05-24 category: SOCIAL
Today I had lunch with a woman who seems to be my opposite. I was telling her how difficult it is for me to accept a long break in communication, and that I had once mailed letters, every other week for about a year, to all my friends and family just so they wouldn't forget about me. She then told me "I wouldn't care if everyone forgot about me completely."

There's no way for me to capture comments on this blog (the way you'd find on other systems like BlogSpot and LiveJournal), but if you have feedback about this, please write me here.
---
2005-05-23 category: CITY
As a quick, dirty, and easy way to draw more visitors to my website, I'm posting a sampling of categories from Ace Weekly's Best of the Bluegrass 2004. Consider it an Internet experiment, with my hypothesis being "I'm gonna get a ton of traffic from this."




Best massage (legal please)
Posh
The Massage Center

Best new restaurant
Mellow Mushroom
AnnaBelle's
Bellini's

Best date restaurant
Murray's
Bellini's
Merrick Inn

Best ethnic fare
Kashmir
Natasha's

Best dive
Tolly Ho
Chevy Chase Inn

Best veggie-friendly restaurant
Alfalfa's
Ramsey's
Good Foods Market & Cafe

Best cup of coffee in town
Starbucks
Common Grounds
Mocha Monkey

Best ice cream
Graeter's
Cold Stone
Baskin-Robbins

Best Kentucky bourbon
Maker's Mark
Woodford Reserve
Wild Turkey

Best role model for a Lexington restaurant
Cheesecake Factory
Spaghetti Factory

Best new store (opened in last year)
Hustler
Cold Water Creek
Wild Oats
Boutique Milan

Best used/neighborhood bookstore
Black Swan
Joseph Beth
Glover's

Best place to buy/sell used music
CD Central
Spy Records
Disc Jockey

Best eclectic/artsy/funky jewelry
Artique
Third Street Stuff
Black Market

Best store you wish Lexington had
Pottery Barn
Crate & Barrel
Nordstrom

Best plumber
Mike Harp
Roto Rooter

Best home inspector
Don Pruitt
Larry Sills
Don R. Hall Inspections

Best general contractor
Gerald Cissell
Padgett Construction
Sills Home Inspection

Best honest roofer
Reliable Roofing
Burnett Sons
Odessa

Best luxury apartment community
Park Place
Grand Reserve
Merrick Place

Best mechanic
Charlie's Foreign Auto
B & W Automotive
Motorsports of Lexington

Best ISP
BlueOne.net
QX.Net

Sexiest local news anchor (female)
Nancy Cox
Dia Davidson
Jennifer Nime

Best use for Lexington Mall's current carapace
New mall
Orchid Greenhouse
Year-round Farmer's Market

Best thing to happen to downtown this year
Smoking ban
Completion of new courthouse
Bars open until 2:30am

Best thing to happen to the suburbs this year
No ice storm
Smoking ban
Hamburg Pavilion
Public middle schools

Best local politician you love-to-hate
Teresa Isaac
Ernie Fletcher
Mike Scanlon

Best charity / nonprofit
God's Pantry
Humane Society
Nature Conservancy
United Way

Best idea you'd like to share with LFUCG
Buy the water company
Synchronize traffic lights
Fix LexTran

Best local meteorologist
Brian Collins
Bill Meck
T G Shuck

Best local radio talk show
Jack Pattie
Woodsongs Old Time Radio Hour
Kruser & Co.

Best radio station
WUKY 91.3
WLKT 104.5
WLTO 102.5

Best new phonebook
Alltel
Verizon
BellSouth


Go visit AceWeekly.com now. Tell them that Brett sent ya.
---
2005-05-22 category: LIFE
Four days ago, I learned that my next-door neighbors were gonna sell their house. Today, I learned that these neighbors have sold the house and got an offer within one day of putting the house on the market. Wow... who knew that my neighborhood has such desirability? If I hold out for a couple more years before I sell my house, maybe I'll be able to double the money I put into it.
---
2005-05-20 category: MUSIC
Cary Ravitz, Steve Bennett, and I are going to the Potato Run dance weekend at O'Bannon Woods State Park in south Indiana, where we'll be playing music for a dance on Saturday.

While I'm away, feel free to enjoy this article about great movies that I found on Blogdex.

Update on May 22: Back home now. Had a good time in Indiana. Met some great people that I'll probably never ever see again, which is always the hardest part of going to a dance weekend. Crippled with sadness now.
---
2005-05-19 category: CITY
This town has one roundabout (a.k.a. "traffic circle" or "rotary"). I just passed through it on my way home from buying dark chocolate M&Ms at Target. In all my years of using that roundabout on Reynolds Road, I've never seen an accident there, UNTIL TODAY. Bummer, dudes! Y'all need some roundabout lessons.

Speaking of traffic, I want to start a campaign to get some designated through lanes created at T-type intersections. How hard can it be to get a green arrow and some vertical blockade marker things going along the southmost lane of Versailles Road where it meets Village Drive? There is no reason that people on eastbound Versailles should have to stop while Village Drive clears out, since there's only one lane of cars turning into two lanes of Versailles Road.

Same thing applies to many, many other intersections in Lexington, including the intersection of Beacon Hill and Lane Allen, or the intersection of Fortune and Winchester. Being forced to stop at those places makes me ill. Let's have a petition and a fundraiser and a harsh scolding of the traffic planner people.
---
2005-05-18 category: LIFE
Almost a year ago, both houses that are next to my house (one on the left, and one on the right) sold to new owners. Just now, I learned that my next-door neighbors on the south side are selling that house again! Wow; what have I done to drive them away?? I'm gonna miss them. They were cool. They just bought a piano from my pal Kenny.
---
2005-05-18 category: CITY
Last night I visited the Greyhound bus terminal in north Lexington for the first time ever. I'm not a bus-riding fella, but I have a close friend who has a fear of flying and who chooses Greyhound for all her cross-country travel. Last night I went with her to pick up a ticket she was purchasing for a friend, and man, what a shady place that bus terminal seems to be. It doesn't open until 9 p.m.?? How odd. I can't sit and play Tetris on my PocketPC without some strange man coming up to me talking about his Tetris skills?? Leave me alone, dude.

I wish Amtrak provided service in (or anywhere near) Lexington. When I lived in Charlotte NC, I would occasionally take Amtrak trips across the country, and it was sweeeet. Living in Kentucky, I don't have that option. Big bummer not having any Amtrak stations or IHOP restaurants anywhere in Kentucky. At least we have horse races.
---
2005-05-17 category: FAMILY
Wonder if my sisters are happy today. I don't hear from them very much. Wish they had blogs.
---
2005-05-16 category: WEBSURF
If you are using the Mozilla Firefox web browser, I have a brand new feature just for you. Starting today, you can "Live Bookmark" this website! Just click the little orange icon (pictured here) that's on the lower left corner of the browser. Internet Explorer does not have Live Bookmarks; you'll have to switch to Mozilla Firefox or get a news aggregator in order to subscribe to my new RSS feed. (I am creating it by hand as I update the site because Prodigy does not offer its members a syndication tool or subscription generator.)

While you're exploring Live Bookmarks, be sure to subscribe to one of my favorite sources of entertainment, Blogdex.
---
2005-05-15 category: SOCIAL
Danielle and I saw the Kentucky Ballet Theatre production of Cinderella this afternoon at the Lexington Opera House after first strolling around Mayfest at Gratz Park for a little bit.


---
2005-05-14 category: SOCIAL
Danced at a wedding reception for Barbara Ramlow (pictured) and Michael French. Took lots of photographs and mini-movies, too.



---
2005-05-14 category: WEBSURF
Here are three of my all-time favorite quotations, all pretty dark. First one is straight from dialogue in Matrix Reloaded. Don't know where the other two originated. I just found them on the web years ago and wrote them down. Now I'm posting them here for you to enjoy:
"Then tomorrow we may all be dead, but how would that be different from any other day?" — "If you give a man a fire, you warm him for a night. If you set a man on fire, you warm him for the rest of his life." — "A real friend is not someone you use once and throw away; a real friend is someone you can use again and again."
---
2005-05-13 category: FOOD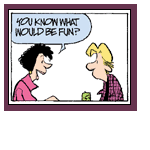 After lunch at GattiTown with Heather, I went to Fayette Mall and rolled myself around in a wheelchair for a bit. I'm the only person I know who does this, giving up a $10 deposit for a wheelchair, getting some arm and shoulder exercise, and reclaiming his $10 deposit. Wonder why everyone thinks I'm crazy? It's fun, it's free, and it's better for me than sitting at home eating dark chocolate M&Ms while watching DVDs.

Say, know what else is great about Fayette Mall? The mix-and-match meals. I like getting a corn dog from Sonic, some chicken nuggets and a Cherry Coke from Chick-Fil-A, and a cinnamon-sugar pretzel from Pretzel Twister. Delicious! Nutritious! Far more satisfying than an octopus tostada.
---
2005-05-13 category: WEBSURF
While websurfing this morning (and, I confess, vanity surfing), I discovered that there is a Brett Mason listed in the Internet Movie Database now. Dadgum! It's not me, which means that when I am added to IMDB.com in the future, I will have parentheses beside my name, like all these Steve Martins.

In case you don't know, "vanity surfing" is when you type your own name into a search engine to see who is writing about you. I wonder if the name-searching visitors that I've spotted in my logfiles (example searches: Molly Metz, Bellamy Young, Brindi Joy, Stephanie Birkitt, Laura Burkhart, Elise Batsel, Lisa Lankshear, St. Claire Ready, Lisa Midkiff) are the actual women I've discussed somewhere on my website. If so, I sure wish that they'd contact me.
---
2005-05-13 category: BRETT
Do you ever wake up laughing? This morning, I woke myself up laughing at something that was said in my dream. Naturally, you're not gonna laugh at this, but here's what happened. I was giving carpentry advice to some guy, and he said "you're a regular Jiminy Cricket." I started laughing out loud, so hard that it woke me up.
---
2005-05-12 category: BRETT
When my birthday comes around for the 35th time, I expect that you will have sent me several things from my gift-suggestion list, my list of favorites, or my DVD wish list



---
2005-05-11 category: FOOD
I'm renovating the website right now. Here is a sample entry in the Food category. I've been to Wild Oats Café / WildOats Market, Planet Thai, Gatti Town / Gattitown, Miyako, Joe Bologna's, Portabella's, Bella Notte, Mark's Feed Store, Mocha Monkey, and Chick-Fil-A / ChickFilA. Haven't eaten at Le Toulouse yet. We do not have Cheesecake Factory or IHOP here. I sure do love using restaurant coupons. And Dulce de leche M&Ms are off the market, even in their former test markets. Brian Regan does comedy about Pop Tarts.
---
2005-05-11 category: SOCIAL
I'm renovating the website right now. Here is a sample entry in the Social category, the schedule for the French Film Series at the University of Kentucky (which just ended). All films were at 7 p.m. in the W.T.Young Library auditorium. Huge debts of gratitude go to Jeorg Ellen Sauer of the Division of French at UK.
---

2004.11.10   Diabolique
2004.12.01   La Bûche
2004.12.08   L'Auberge Espagnole
2005.01.25   Le Million
2005.02.08   Dîner de cons
2005.03.01   Amélie
2005.03.22   Un Air de Famille
2005.04.05   Les Compéres
2005.04.19   My Wife is an Actress

2005-05-07 category: MUSIC
played piano (while Cary Ravitz played fiddle and Steve Bennett played drums) for "Family Fun Day" at the Living Arts and Science Center downtown
---
2005-05-07 category: FAMILY
happy birthday to Grandma!




---
2005-05-04 category: NONE
wish I had something life-changing I could do today at 05:05 (on 05/05/05)... guess I'll start planning for 06:06 on 06/06/06 instead. see also: my entry on 03/03/03
---
2005-05-04 category: WORK
that project expansion I mentioned on 4/25 is happening, taking me to Somerset for two days
---
2005-05-02 category: NONE
gave blood, then chatted about blood at band practice
---
2005-05-01 category: WEBSURF
verily, verily, doth she spill the truth (and just so you know, Blogdex.net got me to that article)

---
2005-05-00 category: NONE
make your way into my archives: April 2005, March 2005, February 2005, and January 2005. Or just head over to my news page from 2005 and 2004
---
---
For search engines: Kentucky KY 40504 USA, not exxington, exinton or Lexingto